Edamame is the typical beer snack in Japan, especially in summer, when edamame is in season. Nothing can compete with the combination of beer and edamame.
We grew edamame for the first time this year, and they grew better than we expected. Now it's time to harvest.
Do they have edamame in Canada?
Canada is a big country, so it is possible to get a variety of foodstuffs in Vancouver, where there are many Asian immigrants.
We live in Quebec, where it is not so easy to get Asian foodstuffs, let alone Japanese foodstuffs. However, frozen edamame has been available for several years now.
Many people here know 'Edamame', which is exactly how it is pronounced in Japanese. It is probably because edamame is served in Japanese restaurants, although it's always cooked from frozen.
In Japan, fresh edamame with branches are sold in supermarkets every summer, but it is not the case here.
So we were excited when we found the edamame seeds this spring on an online shop and bought it to grow.
When to harvest edamame
Although it was our first time growing edamame, they grew much better than we had expected.
However, because this was the first time for us to grow it we didn't know when we could harvest it.
Basically, edamame are immature soya beans and so if they are left as they are they will turn into normal soya beans. It means that they need to be harvested before they turn into soya beans.
When the pods are plump and swollen and you can see the size of the bean, it is time to harvest.
Harvest whole branches for refrigerated storage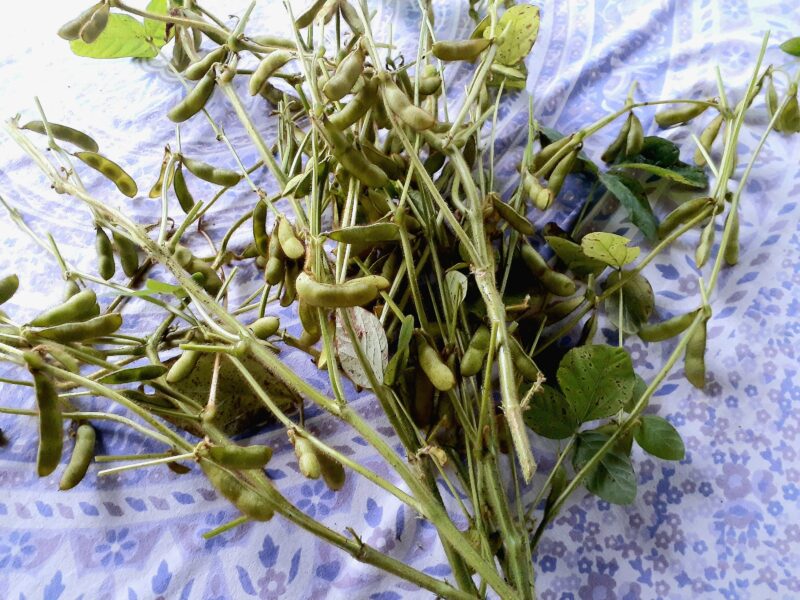 The edamame can be harvested by cutting pods with scissors or by cutting the whole branch.
If they are not eaten immediately after harvesting, but stored in the refrigerator, it seems to last longer if the whole branches are cut and stored.
Don't miss the harvest! Enjoy your edamame!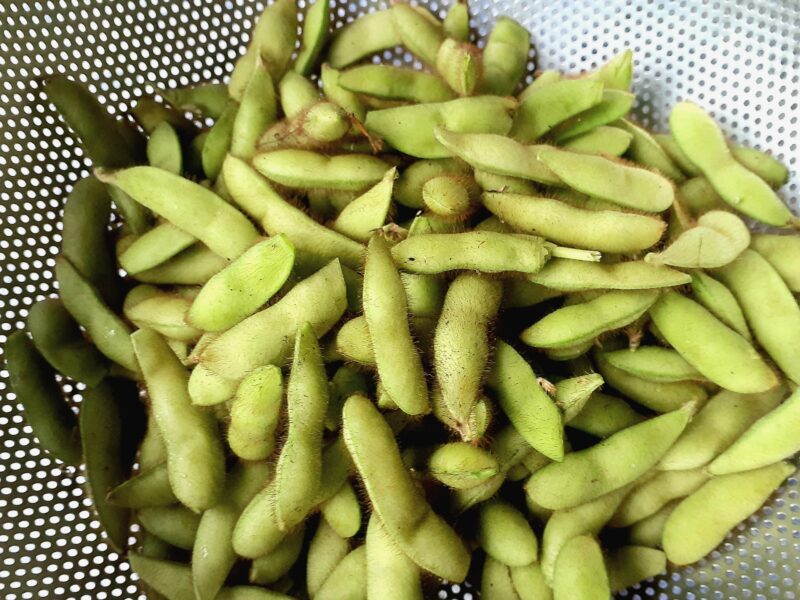 This is the edamame we harvested this morning.
Surprisingly, we got a lot of them.
We are going to leave for a one-year backpacking trip tomorrow and we thought we might not be able to harvest any edamame in time. We were lucky and we managed to enjoy them just in time. Delicious!
How to cook edamame
If you get edamame with branches, boil them fresh and enjoy.
First, separate the pods from the branches. At this point, it's better that the ends of the pods are slightly cut, which allows the beans inside to be well salted.
Add some salt on the pods and rub them against each other to remove any wilted hair.
Boil water in a saucepan and add the beans along with the salt. Cook them for 5 minutes while the water is bubbling and boiling (Or 3-4 minutes if you like them firmer). If scum appears during the process, remove it.
Drain in a colander, sprinkle with salt to taste and leave to cool. Amazing!